Seaside Holiday Homes.
Out & About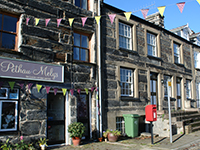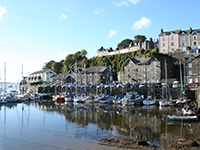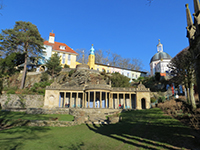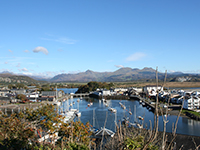 All our cottages provide the ideal holiday destination from which to explore the fantastic beaches, beautiful mountains, picturesque villages, and the host of activities Northwest Wales has to offer. An excellent range of attractions await our guests, with wildlife centres, outdoor activities, train trips, historic sites, museums, fine gardens, golf and more to choose from.
Bay View and Glan y Mor are located directly on the seafront in beautiful Criccieth. Access to the beach is directly opposite. Bryn Gwyn and Tegfryn are a short 10 minute walk from the beautiful sands of Borth y Gest beach. The harbour beach is located directly opposite. Further afield Black Rock Sands, Harlech, Abersoch, Nefyn and Pwllheli beaches are only a short drive away.
Borth y Gest is located about 7 miles east of Criccieth.
Our cottages are only a few miles from the Snowdonia National Park which is a magnificent playground for those who love walking, mountain climbing or just scenery watching.
The Park covers 823 square miles of diverse landscapes. As well as being the largest National Park in Wales, Snowdonia boasts the highest mountain in Wales, and the largest natural lake in Wales, as well as a wealth of picturesque villages like Beddgelert (11 miles).
Snowdonia is renowned for being a very special place for walkers with mountain peaks, lakes, forests, rivers and coastal areas. The National Park is working on developing a network of walks and more will be added every year. In addition Snowdonia National Park has a vast amount of cycling and mountain biking trails suitable for all abilities. The Park also hosts other outdoor activities such as white water rafting and climbing.
Portmeirion is a popular tourist village located just outside of Porthmadog, approximately 3 miles from Borth y Gest and 8 miles from Criccieth. It is Wales' 3rd largest visitor attraction attracting 250, 000 visitors in 2009.
The village stands on a rugged cliff top on its own private peninsula overlooking Cardigan Bay. It is surrounded by 145 acres of sub-tropical woodlands and miles of sandy beaches. The village has always been run as a hotel, which uses the majority of the buildings as hotel rooms, together with shops, a cafe, tea-room, and restaurant.
Portmeirion has served as the location for numerous films and television shows, most famously serving as The Village in the 1960s television show The Prisoner. The show became a cult classic, and fans continue to visit Portmeirion, which hosts annual Prisoner fan conventions.
The popular harbour town of Porthmadog is located 1 mile from Borth y Gest and 5 miles from Criccieth. Porthmadog is rich in maritime history and in times gone by, it was a vital, busy shipping port for the international slate trade, brought down from Blaenau Ffestiniog. Both the Welsh Highland Railway and Ffestiniog Railway can be boarded at Porthmadog.
Further afield are the attractive towns of Beddgelert, Harlech, Pwllheli, Nefyn and Abersoch.